Coaching Service
0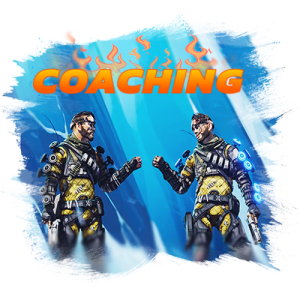 ✕
Self Play
The self play delivery mode requires your to play with the boosting team. It's very safe, fast, and fun.
Piloted
We don't think piloted mode is apropriate for some services as they are considerably faster to deliver with self play.
📝 APEX COACHING SERVICE
We designed our Apex Legends Coaching Service service to help you play alongside one of our Professional Boosters, quickly learn new tricks, and become a better player.
As for delivery, this service is available with Self-Play mode only. You will team up with a Pro Coach to become a better Apex player.
⏳ ETA – COACHING SERVICE
ETA for Apex Legends Coaching Service varies depending on the number of play hours you wish, boosters availability, and orders already in the queue.
✔️ COACHING SERVICE REWARDS
We will teach you how to Win matches, increase your Rank, raise your K/D ratio, unlock your desired Badges, and other tricks such as strategic positioning, team strategies, perfect timing, and aim improvements.
⚙ COACHING SERVICE OPTIONS
Coaching Hours - You can rent a professional coach for up to 50 hours.
Delivery Speed - Normal - we will place your order in the queue, and when it's your turn, we will complete it. Express - your order will be treated as a high priority, so the first coach to become available will start your order.
⚠️ COACHING SERVICE REQUIREMENTS
It would be best to have an EA / Steam / PS or XBOX account with Apex Legends eligible for this coaching service.
ℹ️ APEX LEGENDS – COACHING SERVICE
COACHING SERVICE WALKTHROUGH
When you purchase our Apex Coaching service, we will assign one of our professional Apex players to team up with you and spend the required number of hours playing with you. Our veteran booster will patiently teach you how to become a pro player.
APEX LEGENDS PROFESSIONAL TIPS & TRICKS
You can read this article for more tips and tricks about becoming a better Apex player.
Frequently Asked Questions
Can I choose the boosting time?

Absolutely. We are always more than happy to schedule your boost around the times that you prefer, whether it is a self played boost or a service that requires account sharing.
Will I receive updates regarding my order?

Yes. We will constantly keep you updated with the progress of your order as we work on it through Discord app and via E-mail and/or notifications. Once the order is placed and a booster gets assigned, you will get in touch with him directly for any updates or questions regarding your order.
Will I be notified when the service starts/is complete?

Yes. As soon as you purchase your desired boost, our professional staff of managers will take over and contact all of our available boosters suited for the job. Once a booster is assigned for the task or the service is complete, you will be automatically notified via E-mail and/or notifications.