Cold War KD Ratio Boost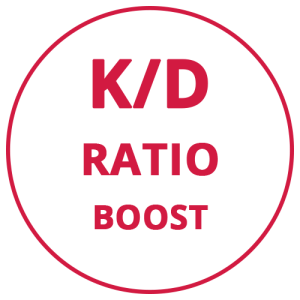 ✕
Self Play
This service can only be delivered in piloted mode because it requires a considerable time investment or a skill set unavailable for most customers.
Piloted
We have completed thousands of orders using the piloted mode and never faced any bans or suspensions, so we can confidently say that is very safe to use even though giving us your login information may seem a bit scary.
SERVICE DESCRIPTION
Here you can buy CoD Cold War K/D Ratio Boosting, a service which guarantees that you will have your desired Kills/Deaths Ratio.
K/D is important in BO: Cold War for your Ranking. It represents your number of kills divided by the number of deaths.
This Cold War service is available for piloted mode only, with account sharing. So one booster will have to log into your account and once we get the desired K/D Ratio, you can log back in. For extra security, if needed, we can also use VPN of your country.
At KBoosting you can buy the K/D Ratio boosting service on all platforms: PC, Play Station and XBOX.
We provide handmade boosting services since 2013, completed thousands of orders and we NEVER encountered any issue, so we can definetely claim that our CoD services are 100% safe.
IMPORTANT INFORMATION
Some reasons why you would want to have a good K/D Ratio:
When you purchase a K/D Ratio boost service from us, we 100% guarantee that we will get you the desired K/D Ratio. ETA⌛ is about 24 hours, depending on your current and desired K/D Ratio.
If by any chance you want to log into the account while it's getting boosted, please contact the manager in advance.
REQUIREMENTS
In order to be eligible for this boosting service, you must own Call of Duty Black Ops: Cold War game.
As this service requires account sharing, you will need to pass us your account's credentials and don't log the account untill the job is done.
Disabling the 2-step-verification login protection will help ease up the process for both you and our booster (you won't need to give us the login code from phone or e-mail).
We take all these measures in order to provide a safe boost, without any IP conflicts or kicking out the booster while logged into your account.
For a more extensive guide about Call of Duty Cold War K/D Ratio you can read this article.
Frequently Asked Questions
What is a good KD ration in Cold War?

A good KD ratio is 1.5 or above. This means you make at least 1.5 kills every death.
Where do i see my cold war KD ratio?

You can see your current KD ratio by going to Leaderboard section in the game menu.
How do you raise your KD in Cold War?

In order to raise your K/D Ratio you have to kill more enemies than your deaths.
Can i buy the K/D Ratio Boost in Cold War?

Yes, Kboosting.com is a boosting website where you can buy everything you need in Cold War including the K/D Ratio Boost. The boosters are Pro call of duty veterans that can help you out with any task regardless how difficult it is. The services are fairly priced and really important, 100% safe.