556 Icarus LMG Boost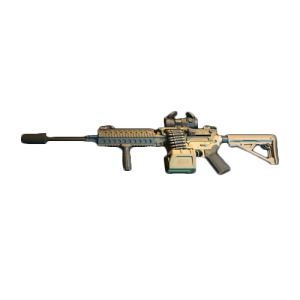 ✕
Self Play
This service can only be delivered in piloted mode because it requires a considerable time investment or a skill set unavailable for most customers.
Piloted
We have completed thousands of orders using the piloted mode and never faced any bans or suspensions, so we can confidently say that is very safe to use even though giving us your login information may seem a bit scary.
📝 556 ICARUS LMG BOOSTING SERVICE
556 Icarus is the easiest-to-use Light Machine Gun (LMG) added in Call of Duty MW2. It is a tactical Modern Warfare weapon that has a good range and accuracy. 556 Icarus can be fully customized at the Gunsmith with attachments to get the Best Loadout.
Our 556 Icarus LMG boosting service is the best way to reach the max level for your MW2 weapon effortlessly. One of our professional CoD players will help you kill lots of enemies and gain XP to max out your LMG and unlock all attachments and build your loadout lightning-fast.
DELIVERY METHOD
As for delivery, this service is available with Piloted mode only (account sharing), so we will get you a pro booster to log into your account and max out your 556 Icarus LMG. When it's complete, you will get an e-mail and notification to log back in.
⏳ ETA – 556 ICARUS LEVELING SERVICE
ETA for 556 Icarus Leveling is 24 - 48 hours after the service start, depending on the weapon's current level & the level you wish to achieve.
✔️ 556 ICARUS LEVELING REWARDS:
Reaching the desired 556 Icarus LMG level is 100% guaranteed.
M16 AR unlocked at Lvl 12.
556 Icarus Unlocked. (if you select the extra option)
Progress through 556 Icarus Gold Camo.
XP for your battle pass.
Progress for your Military Rank & Prestige Rank.
556 Icarus Attachments are unlocked.
K/D ratio boost.
⚙ 556 ICARUS LMG SERVICE OPTIONS:
Platform: - from the dropdown, you can select the platform (PC, Xbox or Play Station) where you want the booster to complete your MW2 Weapon Leveling service.
Level: - use the slider to choose your current weapon level. (to reduce the price)
Extra Options: - We can unlock the 556 Icarus for you if you don't have it already.
Delivery Speed - Normal - we will place your order in the queue, and when it's your turn, we will complete it. Express - your order will be a high priority, so the first booster to become available will start your order.
⚠️ 556 ICARUS BOOST REQUIREMENTS:
To be eligible for this boosting service, you must own an Activision Account with CoD Modern Warfare 2 purchased.
ℹ️ CALL OF DUTY: MW2 – 556 ICARUS LMG
HOW TO UNLOCK 556 ICARUS IN MW2?
To unlock the 556 Icarus, you must level up your military rank level 18.
556 ICARUS UNLOCK TREE
As you level up your 556 Icarus, the following weapon will be unlocked:
556 ICARUS LMG ATTACHMENTS
You will be able to choose from a large variety of attachments to customize your weapon fully. Yow will be able to add attachments as you level up your gun. You can add attachments to Muzzle, Barrel, Laser, Optic, Stock, Rear Grip, Underbarrel, Magazine & Ammo Type.
BEST 556 ICARUS LOADOUT (CLASS SETUP)
There are many options; at first sight, you may be confused and not know what to choose. With the help of our pro players, we made the best 556 Icarus loadout that you can try:
Muzzle - none.
Barrel - FTAC Coldforge 16" barrel.
Laser - none.
Optic - Forge Tac Delta 4.
Stock - Corio Precio Factory.
Rear Grip - XTEN Grip.
Underbarrel - VX Pineapple.
Magazine - none.
Ammo Type - none.
You should keep an eye on the complimentary Perks to build the perfect 556 Icarus build. In the following list, we included the perks & gear you should use so your loadout can be unbeatable:
Tactical - Tear Gas.
Lethal - Drill Charge.
Base Perk 1 - Overkill.
Base Perk 2 -Strong Arm.
Bonus Perk - Fast Hands.
Ultimate Perk - Ghost.
556 ICARUS LEVELING WALKTHROUGH
The weapon leveling in MW2 is straightforward; you must equip the weapon and kill as many enemies as possible using the gun to get XP. You can reach a max level of 20 for your LMG.
You can read this Article for more information about Modern Warfare 2 556 Icarus LMG.
Frequently Asked Questions
When do you start working on my Modern Warfare 2 order?

Usually we start boosting a couple minutes after the order is placed and the payment is processed. There are couple exceptions though when we might be overloaded, when the request on services is very high, such as new season or game launches. After purchasing a Call of Duty Boost (self-played) you will schedule the service together with the manager in advance, so the team is ready for you whenever it suits you better. Even if we can't start working on your order right away, before purchasing, the manager will let you know when your boost can be provided.
Will I receive updates regarding my order?

Yes. We will constantly keep you updated with the progress of your order as we work on it through Discord app and via E-mail and/or notifications. Once the order is placed and a booster gets assigned, you will get in touch with our managers for any updates or questions regarding your order.
Can I still use my account?

Absolutely. We are always more than happy to schedule your boost around the times that you prefer, whether it is a self played boost or a service that requires account sharing.