All Achievements Boosting Service
Discount 7%
Ends in 21h 10m 17s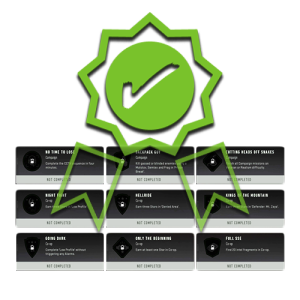 ✕
Self Play
The self play delivery mode requires your to play with the boosting team. It's very safe, fast, and fun.
Piloted
We have completed thousands of orders using the piloted mode and never faced any bans or suspensions, so we can confidently say that is very safe to use even though giving us your login information may seem a bit scary.
📝 ACHIEVEMENTS BOOSTING SERVICE
We designed our Modern Warfare 2 Achievements boosting service to help you effortlessly complete your desired challenges in no time.
Our CoD Boosters are professional players with enough experience to complete any achievement in the quickest & most efficient way possible.
DELIVERY METHOD
As for delivery, this service is available with Piloted mode only (account sharing). A booster will log into your account and complete the MW2 achievements for you. You will get an e-mail and notification to log back in when it's complete.
⏳ ETA FOR MW2 ACHIEVEMENTS BOOST
ETA for Modern Warfare 2 Achievements service varies depending on your desired number of achievements.
✔️ ACHIEVEMENTS SERVICE REWARDS
⚙ ACHIEVEMENTS SERVICE OPTIONS
Platform: - from the dropdown, you can select the platform (PC, Xbox or Play Station) where you want the booster to complete your MW2 battle pass service.
Service Options: - you can choose any achievement in MW2 or even the discounted pack which includes all achievements.
Delivery Speed: Normal - your order will be placed in the queue and be completed when it's your turn. Express - your order will be treated as a high priority, so the first booster to become available will start your order.
⚠️ ACHIEVEMENTS BOOST REQUIREMENTS
To be eligible for this boosting service, you must own an Activision Account with CoD Modern Warfare 2 purchased.
Selected Achievement available on your account. (some achievements require meeting specific criteria).
Selected game mode unlocked.
ℹ️ CALL OF DUTY: MW2 – ACHIEVEMENTS BOOST
WHICH ARE THE ACHIEVEMENTS IN MODERN WARFARE 2?
Modern Warfare 2 includes 25 Achievements. We designed the following list to explain each of them:
We are RTB - Collect all the Trophies.
Crocodile - Shoot three enemies while underwater in 'Wetwork'.
Must be Wind - Rescue the hostages in 'Countdown' without the enemies firing their weapons.
Gunless - Finish 'Alone' without firing a gun.
Test Drive - Drive five vehicle types in 'Violence and Timing'.
Ghost-in-Training - Reach the penthouse in 'El Sin Nombre' without killing anyone or triggering the alarm.
Don't touch the deck! - In 'Dark Water', advance 90 meters towards the front of the ship without touching the deck.
Keeping this One - Reach Price using the first vehicle you hijack.
Gentleman Thief - Open three safes in the Campaign.
Wall of Duty - Kill three Enemies with the Riot Shield in the Campaign or in Co-op.
Daredevil - While affected by one Flashbang, kill two enemies in the Campaign or in Co-op.
Practice makes Perfect - Shoot all the targets in the training area in 'Ghost Team'.
A Crappy Way to Die - Kill the enemy in the porta-potty.
Nessie - Reach the barge without being seen in 'Wetwork'.
No time to lose - Complete the CCTV sequence in four minutes.
Backpack Guy - Kill gassed or blinded enemies using a Molotov, Semtex, and Frag in 'Prison Break'.
Cutting Heads off Snakes - Finish all Campaign missions on Veteran or Realism difficulty.
Time for Pints - Finish the Campaign on any difficulty.
Nobody was There - Never trigger the alarm in 'Recon by Fire'.
Night Fight - Earn three Stars in 'Low Profile'.
Hellride - Earn three Stars in 'Denied Area'.
Kings of the Mountain - Earn three Stars in 'Defender: Mt. Zaya'.
Going Dark - Complete 'Low Profile' without triggering any alarms.
Only the Beginning - Earn at least one Star in Co-op.
Full SSE - Find 20 intel fragments in Co-op.
MODERN WARFARE 2 ACHIEVEMENTS WALKTHROUGH
You can read this article for more information about Modern Warfare 2 Achievements.
Frequently Asked Questions
When do you start working on my boost?

Usually we start boosting a couple minutes after the order is placed and the payment is processed. There are couple exceptions though when we might be overloaded, when the request on services is very high, such as new expansion launches. After purchasing a MW2 Boost, you will schedule the service together with the manager in advance, so the team is ready for you whenever it suits you better. Even if we can't start working on your order right away, before purchasing, the manager will let you know when your boost can be provided.
Is it safe to buy MW2 boosting services?

We provide Call of Duty boosting services since 2013, completed thousands of orders as self played and piloted mode and we NEVER encountered any issue, so we can definetely claim that our Modern Warfare 2 boost is 100% safe. Our reputation speaks for ourselves. For extra security, in case you buy a MW2 boosting service that requires account sharing, we can use a VPN of your country and stream the boost aswell.
Do you have the best prices?

When it comes to prices, at KBoosting we have fair prices, which reflect the skill and time needed to invest in order to obtain the goal the client goes for. We try to keep our prices as low as possible, and please keep in mind that every Modern Warfare 2 boosting service provided by KBoosting is handmade, without the usage of any illegal 3rd party software, cheats, hacks, mod, lobby, unlock all tool etc.
Will I receive updates regarding my order?

Yes. We will constantly keep you updated with the progress of your order as we work on it through Discord app and via E-mail and/or notifications. Once the order is placed and a booster gets assigned, you will get in touch with our managers for any updates or questions regarding your order.
Can I still use my account?

Absolutely. We are always more than happy to schedule your boost around the times that you prefer, whether it is a self played boost (carry) or a service that requires account sharing (piloted).