Tarkov Character Skill Boosting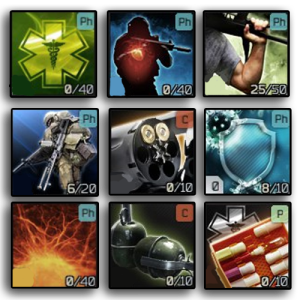 ✕
Self Play
This service can only be delivered in piloted mode because it requires a considerable time investment or a skill set unavailable for most customers.
Piloted
We have completed thousands of orders using the piloted mode and never faced any bans or suspensions, so we can confidently say that is very safe to use even though giving us your login information may seem a bit scary.
📝 TARKOV CHARACTER SKILLS BOOSTING
The Tarkov Character skills are the most efficient way to boost your raids experience. Skills can be upgraded passively during the raid, but for a maxed skill you need over 500+ successful raids to achieve Elite skill Level. You can choose to upgrade different character skills for your PMC to get various benefits like increased looting speed, stamina, and movement speed.
To level up specific skills you have to take certain actions in raids. For example, to level up strength you will have to use throwable and melee weapons, or, walk / sprint while carrying more than ~40% of your maximum carry weight. Leveling your PMC's skills can be time-consuming and difficult because of the progression speed and the diminishing returns implemented by the devs.
As for Delivery, the service is available with Piloted mode only, with account sharing. A Pro Booster will log into your account and fulfill the Character Skill boosting service.
⏳ ETA FOR CHARACTER SKILLS BOOSTING SERVICE
ETA for EFT Character Skills Boost is 2 - 14 days, depending on your current skill level progression (you will get a discount for it), and your desired level. If you choose the Express option your order will be treated as a high priority, so the ETA will be 30% lower.
✔️ CHARACTER SKILLS REWARDS
Any character skill boosted to the desired level.
While leveling your skills during the service you will get to keep all the Loot and Roubles we find, for free.
XP gained towards your PMC Level and Character skills obtained.
⚙ SKILLS BOOSTING SERVICE OPTIONS
Select Skill - Select the skill you want to be boosted.
Skill Levels - Select your current and wanted level.
⚠️ SERVICE REQUIREMENTS
To be eligible for this service you must have an active Escape from Tarkov account.
ℹ️ EFT SKILLS BOOSTING INFORMATION
Escape from Tarkov character skills is an essential part of your PMC. Every increased level enhances your character with helpful stats, unlocking better perks that are very helpful during raids.
Endurance– Increases stamina, decreases jump stamina drain, and increases holding breath time
Strength- Increases jump height, carrying weight, movement and sprint speed, and grenade throw distance.
Vitality- Decreases chance of bleeding or dying by losing a limb.
Health- Decreases chance of fractures, energy consumption, and dehydration rate.
Metabolism- Reduces the time of negative effects (Dehydration, Pain, Tunnel Vision, etc).
Search- Increases search speed, looting speed, and examine speed.
Perception- Increases hearing distance, enhances aiming concentration, and loot detection radius.
For detailed information about Escape from Tarkov character skills and how to boost them, you can read the dedicated wiki page, or watch Pestily's Youtube Video about it.
Frequently Asked Questions
Can I choose the boosting time?

Absolutely. We are always more than happy to schedule your boost around the times that you prefer, whether it is a self played boost or a service that requires account sharing.
Will I receive updates regarding my order?

Yes. We will constantly keep you updated with the progress of your order as we work on it through Discord app and via E-mail and/or notifications. Once the order is placed and a booster gets assigned, you will get in touch with him directly for any updates or questions regarding your order.
Will I be notified when the service starts/is complete?

Yes. As soon as you purchase your desired boost, our professional staff of managers will take over and contact all of our available boosters suited for the job. Once a booster is assigned for the task or the service is complete, you will be automatically notified via E-mail and/or notifications.