FUT Champions Play-Off
5
4 Ratings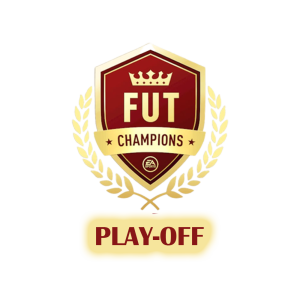 ✕
Self Play
This service can only be delivered in piloted mode because it requires a considerable time investment or a skill set unavailable for most customers.
Piloted
We have completed thousands of orders using the piloted mode and never faced any bans or suspensions, so we can confidently say that is very safe to use even though giving us your login information may seem a bit scary.
📝 FUT CHAMPIONS PLAY-OFF SERVICE
Here you can get FUT Champions Play-Off boost for your Fifa 23 account. FUT Champions Play-Off is an important game mode in Fifa 23 Ultimate Team that can give you the chance to participate in the Weekend League, if you win at least 4 matches. You can also receive some valuable packs depending on your rank after the 10 matches played.
Our Fifa 23 FUT Champions Play-Off boosting service helps you obtain your desired rank and qualify for the FUT Champions Final effortlessly. Our Pro Fifa boosters are eager to skip the Play-Off matches and get the qualification for the FUT Champions Final on your account.
DELIVERY METHOD
This service is available with Piloted mode only (account sharing) – a professional booster logs into your account and completes the Fifa 23 FUT Champions Play-Off service for you. When the order is done, you will receive an e-mail and notification to log back in.

⏳ ETA FOR FUT CHAMPIONS PLAY-OFF BOOSTING
The ETA for FUT Champions Play-Off boost is up to 2 days after the service start.
✔️ FUT CHAMPIONS PLAY-OFF BOOST REWARDS
Reaching your desired Play-Off rank is 100% guaranteed.
Any number of wins on your account.
Qualification for FUT Champions Final.
Various Player Packs, depending on your chosen rank.
⚙ SERVICE OPTIONS
Platform – from the dropdown, you can select where you want the booster to complete your Fifa 23 Boosting service (PC, Xbox or Play Station).
Choose Rank – Select your desired rank for the Fut Champions Play-Off.
Delivery Speed – Normal - we will place your order in the queue. We will complete it when it's your turn. Express - your order will be treated as a high priority, so the first booster to become available will start your order.
⚠️ FUT CHAMPIONS PLAY-OFF BOOST REQUIREMENTS
To be eligible for this service, you must have an active Fifa 23 account.
You have to be qualified for the FUT Champions Play-Off. If you don't have 1250 Champion Qualification Points, make sure you take advantage of our Division Rivals Service.
You need an 85+ squad rating with some quality players to be able to complete the service.
ℹ️ FIFA 23 - FUT CHAMPIONS PLAY-OFF
HOW MANY MATCHES CAN YOU PLAY IN FIFA 23 FUT CHAMPIONS PLAY-OFF
You can play a maximum of 10 matches in a Fut Champions Play-Off, and depending on the number of wins and losses, you will get a certain rank with unique rewards. You will be awarded 4 points for every win and only 1 point for a loss. You need at least 4 wins to qualify for the Weekend League.
HOW TO RANK UP IN FIFA 23 FUT CHAMPIONS PLAY-OFF
The ranking process is straightforward in Fifa 23 Play-Off. You must win matches, get points, and rank up. You have to earn the following number of points to obtain the next rank:
Rank 7 – 4 points.
Rank 6 – 12 points (1 win).
Rank 5 – 20 points (4 wins).
Rank 4 – 26 points (6 wins).
Rank 3 – 32 points (8 wins).
Rank 2 – 36 points (9 wins).
Rank 1 – 40 points (10 wins).
FIFA 23 FUT CHAMPIONS PLAY-OFF REWARDS
In the following table, you can find all rewards depending on ranks that you could get in FUT Champions Play-Off:
Rank
Rewards
Rank 7
2x Jumbo Premium Gold Pack
Rank 6
2x Gold Players Pack
x1 Jumbo Premium Gold Pack
400 Champions Qualification Points
Rank 5
2x Rare Gold Pack
1x Small Prime Gold Players Pack
Finals Qualification
Rank 4
2x Mega Pack
1x Rare Gold Players Pack
Finals Qualification
Rank 3
1x Jumbo Premium Gold Players Pack
x2 Rare Gold Pack
1x Small Prime Gold Players Pack
Finals Qualification
Rank 2
1x Rare Mega Pack
1x Prime Gold Players Pack
2x Small Rare Gold Players Pack
Finals Qualification
Rank 1
1x Jumbo Rare Players Pack
1x Rare Players Players Pack
1x Mega Pack
Finals Qualification
Frequently Asked Questions
When do you start working on my Fifa 23 boost?

Usually we start boosting a couple minutes after the order is placed and the payment is processed. After purchasing a Fifa Boost, you will schedule the service together with the manager in advance, so the team is ready for you whenever it suits you better. Even if we can't start working on your order right away, before purchasing, the manager will let you know when your boost can be provided.
Is it safe to buy Fifa 23 boosting services?

We provide boosting services since 2013, completed thousands of orders as self played and piloted mode and we NEVER encountered any issue, so we can definetely claim that our Fifa boosting services are 100% safe. Our reputation speaks for ourselves. For extra security, in case you buy a Fifa 23 boosting service, we can use a VPN of your country and stream the boost aswell.
Do you have the best prices?

When it comes to prices, at KBoosting we have fair prices, which reflect the skill and time needed to invest in order to obtain the goal the client goes for. We try to keep our prices as low as possible, and please keep in mind that every Fifa boosting service provided by KBoosting is handmade, without the usage of any illegal 3rd party software, cheats, hacks, etc.