Duo Boosting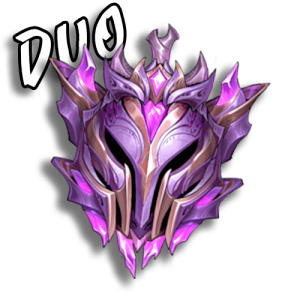 ✕
Self Play
The self play delivery mode requires your to play with the boosting team. It's very safe, fast, and fun.
Piloted
We don't think piloted mode is apropriate for some services as they are considerably faster to deliver with self play.
📝 SERVICE DESCRIPTION
Elo Boosting will increase your current division and will achive any division you need. That means, you'll get a HIGHER MMR ( RANK ), but also get BETTER TEAMMATES which will automatically improve your gaming experience.
For DELIVERY the service is available with Slef-Play Mode only, so you will have to play with your booster.
⏳ ETA for Duo Boosting is between 1 and 3 Days, depending on the gap between the ranks and previous orders already in the queue.
✔️ REWARDS:
Up to MASTER LEAGUE on your account.
Capsules unlocked by leveling your account while doing the service.
Blue Essence recived for the matches played.
Champion Mastery for great results while playing.
⚙ OPTIONS & CONFIG:
Current Rank - Select your actual League Of Legends rank.
Desired Rank - Select the League Of Legends rank you desire.
Current league Points - Select how many League Points you have right now (to get a discount).
LP-Gain Range - Select the LP-Gain that fits your account, the LP you're most likely to get at the end of a game.
Extra Options - Hold your mouse on the question mark " ? " to get informations about the option.
Your Server - Select your account's server.
⚠️ REQUIREMENTS:
League Of Legends account.
Level 30 - If you don't meet this requirement, check our Level Boosting Service .
Placement Matches completed - If you don't meet this requirement, check our Placement Matches Service .
Extra Option only - You must own the champion you required.
ℹ️ ADDITIONAL INFORMATION:
Buying this service, will get you the rank you desire. No more weird teammates with no communications, people who troll or hackers. Here in the big Leagues the gameplay is totally different than anywhere else. We'll take care of your account and make sure you'll have a great gameplay from here on.
Check Ranking for more information.
Frequently Asked Questions
Can I choose the boosting time?

Absolutely. We are always more than happy to schedule your boost around the times that you prefer, whether it is a self played boost or a service that requires account sharing.
Will I receive updates regarding my order?

Yes. We will constantly keep you updated with the progress of your order as we work on it through Discord app and via E-mail and/or notifications. Once the order is placed and a booster gets assigned, you will get in touch with him directly for any updates or questions regarding your order.
Will I be notified when the service starts/is complete?

Yes. As soon as you purchase your desired boost, our professional staff of managers will take over and contact all of our available boosters suited for the job. Once a booster is assigned for the task or the service is complete, you will be automatically notified via E-mail and/or notifications.