MHR Monster Hunting & Kills Boost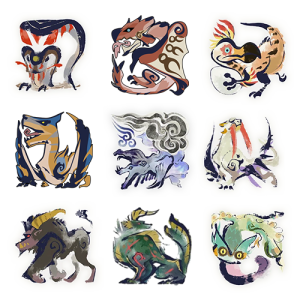 ✕
Self Play
This service can only be delivered in piloted mode because it requires a considerable time investment or a skill set unavailable for most customers.
Piloted
We have completed thousands of orders using the piloted mode and never faced any bans or suspensions, so we can confidently say that is very safe to use even though giving us your login information may seem a bit scary.
📝 MHR MONSTER KILL BOOSTING SERVICE
Greetings hunter! Our Monster Hunter: Rise monster kills boosting service is made to help you defeat or capture any monster in MHR fast & easily.
Our professional players will kill the monsters for you or carry you through hunts so you learn how to beat any threat and get the monster materials to craft amazing weapons and armor sets. Let us grind for you or join us in the best hunt of your life! Get a boost now!
As for delivery, this service is available with both Piloted and Self-Play mode. The Piloted mode requires account sharing, so we will get you a Pro Booster that will log into your account and kill your desired monster. On the other hand, if you go for a Self-Play (carry) service you will control your account and play side by side with our professional players.
⏳ ETA FOR MONSTER FARMING SERVICE
ETA for monsters boost is 1 - 12 hours, depending on the monster you choose, the number of kills you wish, previous orders already in the queue, and boosters availability. If you choose the Express option your order will be treated as a high priority, so the ETA will be 30% lower.
✔️ MHR MONSTERS HUNTING BOOST REWARDS
The desired number of monster kills 100% Guaranteed
The desired monster full set if you choose the option
rare monster materials for crafting weapons and armor sets
Chances for free Hunter Rank boost
Chances for free decorations
Zenny
Other materials and resources that might drop during the service
⚙ MONSTER KILLS SERVICE OPTIONS
Platform: from the dropdown, you can select the platform (PC or Nintendo Switch) where you want the booster to complete your boosting service.
Monster: we will kill/farm the selected monster for you as many times as you choose. You will get a lot of parts from the monster.
Options: you can purchase any amount of Kills or the Full Set (Our booster will farm the selected monster until he can craft the full set for you).
Mode: you can either go for a Piloted service or a Self-Play service.
Delivery Speed: Normal - your order will be placed in the queue and be completed when it's your turn. Express - your order will be treated as a high priority, so the first booster to become available will start your order.
⚠️ SERVICE REQUIREMENTS
Monster Hunter: Rise purchased on your account.
The selected monster quest unlocked.
ℹ️ MONSTER KILLS – MONSTER HUNTER: RISE
Killing monsters is the main activity that you will do in Monster Hunter: Rise. To complete the quests and raise your Hunter Rank you will have to hunt certain monsters.
If you want to craft the best weapons & armor sets for your hunter you have to farm lots of monster materials. You can find both small monsters and large monsters and even the exclusive Elder Dragons and Apex monsters in MH: Rise universe.
HOW TO KILL MONSTERS IN MHR
To be able to defeat all these deadly creatures you have to get stronger. You need to invest a lot of time and effort in the game to build an awesome loadout and never have to worry about any monster. If you want to fight the most powerful monsters you also need a strategy and a brief study about their specific weaknesses and exploit them.
There are 72 monsters in MH: Rise, each with unique abilities, behavior, and weaknesses. In the MHR universe you can find:
Elder Dragons
Apex Monsters
Large Monsters
Small Monsters
Each monster is special and they all have weak points. To be able to kill them you will have to study their weaknesses and exploit them. Also, you will need a strong loadout and skill. Some monsters are easy to kill but others may seem invincible. From our experience, all of them can fall by a powerful hunter's sword.
BEST MONSTERS IN MONSTER HUNTER RISE
We studied Monster Hunter: Rise and designed a top of the hardest to kill monsters in the game:
Goss Harag
Diablos
Rajang
Thunder Serpent Narwa
Nargacuga
Chameleos
Apex Rathalos (appears in Rampage quests only)
Magnamalo
Mizutsune
Zinogre
MONSTER KILLS WALKTHROUGH
If you are looking for any monster-killing guide, the one GameSpot wrote is amazing.
Also, Game8 has a list of all MHR monsters.
If you are more into video guides, we recommend CaleoGaming's all monsters guide.
Frequently Asked Questions
Can I choose the boosting time?

Absolutely. We are always more than happy to schedule your boost around the times that you prefer, whether it is a self played boost or a service that requires account sharing.
Will I receive updates regarding my order?

Yes. We will constantly keep you updated with the progress of your order as we work on it through Discord app and via E-mail and/or notifications. Once the order is placed and a booster gets assigned, you will get in touch with him directly for any updates or questions regarding your order.
Will I be notified when the service starts/is complete?

Yes. As soon as you purchase your desired boost, our professional staff of managers will take over and contact all of our available boosters suited for the job. Once a booster is assigned for the task or the service is complete, you will be automatically notified via E-mail and/or notifications.