EA FC 24 Coins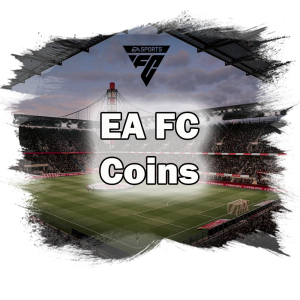 ✕
Self Play
This service can only be delivered in piloted mode because it requires a considerable time investment or a skill set unavailable for most customers.
Piloted
We have completed thousands of orders using the piloted mode and never faced any bans or suspensions, so we can confidently say that is very safe to use even though giving us your login information may seem a bit scary.
📝 EA FC 24 COINS SERVICE
Here you can buy EA FC 24 Coins for your account. Coins are the main currency added in EA FC 24 Ultimate Team. With this currency, you can buy everything you want, like new powerful players, player packs, or even kits, stadiums, and badges.
Our EA FC 24 Coins boosting service helps you obtain the desired amount of coins on your EA Sports FC 24 account effortlessly. Our pro Fifa Boosters will skip the grinding process and deliver any amount of coins to your account lightning-fast.
DELIVERY METHOD
The delivery of this service is available via player auction. During the service, you will chat with the booster via discord for all details.
⏳ ETA FOR EA FC 24 COINS BOOSTING
The ETA for EA FC 24 Coins boost is 3-4 hours after the service starts.
✔️ EA FC 24 COINS BOOST REWARDS
Any number of coins delivered on your account.
⚙ SERVICE OPTIONS
Platform – from the dropdown, you can select where you want the booster to complete your EA FC 24 Boosting service (PC, Xbox or Play Station).
Number of Coins – Select your desired number of EA FC 24 Coins.
⚠️ COINS BOOST REQUIREMENTS
To be eligible for this service, you must have an active EA FC 24 account.
You must have at least 1k coins on your account to start the service.
ℹ️ EA SPORTS FC 24 - COINS
HOW TO GET COINS IN EA FC 24?
EA FC 24 Coins are the main currency in the game, and you can obtain them in the following ways:
Earn a small amount at the end of each match
Sell players from Tradeable Packs
Obtain them from Weekend League rewards
Get them from Division Rivals rewards
Obtain them from Squad Battles
Making a profit from FUT Drafts
HOW TO SPEND COINS IN EA FC 24?
You can spend your coins on the following ways:
Buying powerful players from the market.
Buying Players Packs.
Purchasing player contracts, position modifiers, or chemistry styles.
Getting Stadiums, Kits, Badges.