Assault Rifle PvP Build
5
4 Ratings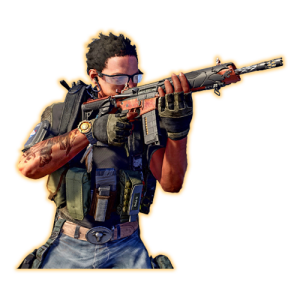 ✕
Self Play
This service can only be delivered in piloted mode because it requires a considerable time investment or a skill set unavailable for most customers.
Piloted
We have completed thousands of orders using the piloted mode and never faced any bans or suspensions, so we can confidently say that is very safe to use even though giving us your login information may seem a bit scary.
SERVICE DESCRIPTION
Here you can buy Division 2 Assault Rifle PvP build, an end-game type of product specially designed for those players who enjoy the ultimate player versus player combat playstyle and experience.
By purchasing this service, we will prepare a Division 2 AR PVP build on your account, in no time.
This boosting service is available for piloted mode only, with account sharing. So one booster will have to log in your account and once the build is prepared, you can log back in. For extra security, if needed, we can also use VPN of your country.
Delivery of the Assault Rifle PvP build takes between 48-72 hours, it all depends on RNG.
We can provide the service on all platforms: PC, PS, XBOX.
ASSAULT RIFLE PVP BUILD DESCRPITION
The AR PVP Build is a DPS type of build which provides insane damage output that comes as a result of the synergy of the items and talents that are being used.
This is one of the meta PvP builds in Title Update 12, as with the right skills you can easily defeat anyone in the Dark Zone or Conflict game modes.
Built around the assault rifle weapon class, the exotic Coyote's Mask, with talents such as Vigilance, Unbreakable or Spotter, named items such as Fox's Prayers and Contractor's Gloves, this is a very strong hybrid DPS build with red and blue cores and attributes.
This is the perfect build for mid-range combat playstyle, for both PvE and PvP content farming.
If you want to push the build to it's ultimate level, you can upgrade it and BUY EAGLE BEARER assault rifle which is by far the best in slot weapon for this build and use it for it's incredible talent that it comes with.
IMPORTANT INFORMATION
When you buy Division 2 PvP Assault Rifle build from us, GUARANTEE the delivery of a perfectly functional build on your character, while taking care of everything needed to get your character PvP viable, such as: proper gear and weapons, talents, rerolls, mods and so on.
If you order the AR PvP build boost, you can customize your own build or choose our PREMADE SETUP :
WEAPON: ASSAULT RIFLE WITH IN SYNC TALENT
SPECIALIZATION: GUNNER | TECHNICIAN
MASK: COYOTE'S MASK EXOTIC
CHEST: FENRIS | GRUPO | CESKA BRAND SET ITEM WITH UNBREAKABLE | SPOTTER TALENT
BACKPACK: FENRIS | GRUPO | CESKA BRAND SET ITEM WITH VIGILANCE TALENT
HOLSTER: FENRIS | GRUPO | CESKA BRAND SET ITEM
GLOVES: CONTRACTOR'S GLOVES NAMED ITEM
KNEE PADS: FOX'S PRAYER NAMED ITEM
SKILL #1: DECOY | EMP STICKY
SKILL #2: BALLISTIC SHIELD
CORE ATTRIBUTES: HYBRID RED & BLUE BUILD
GEAR ROLLS: CRIT CHANCE | CRIT DAMAGE
RECOMMENDED UPGRADES
REQUIREMENTS
In order to be eligible for this service, your character must be level 40 and have Warlords of New York story completed.
If your character doesn't meet these requirements, you must purchase, by case, one of the POWER LEVELING SERVICES we offer.
When you purchase this service, you will have to pass us the Uplay account's credentials, remove the 2FA authenticator (if active) and don't log the account untill the boost is complete.
We take all these measures in order to provide a safe boost, without any IP conflicts or kicking out the booster while preparing your character.
If by any chance you want to log into the account while it's getting boosted, please contact the manager in advance.
Frequently Asked Questions
Is the Assault Rifle PvP build good for Dark Zone and Conflict game modes?

Definetely! This is one of the strongest PvP Builds that can be used for any PvP activity, solo and group mode.
How can the AR PVP build be delivered?

You can buy Division 2 AR build only as a piloted type of service, with account sharing. One booster is going to log into your account and pass the account back after the job is done.
Is it safe to buy builds in Division 2?

Absolutely. Every service provided by KBoosting is handmade, without the usage of any illegal 3rd party software, cheats, hacks, aimbots or XP glitches. All the services we provide are 100% safe.
How long does this build take for delivery?

Delivery of the Assault Rifle PvP build takes anywhere between 48-72 hours, it all depends on RNG.