Shd (Watch) Level Boost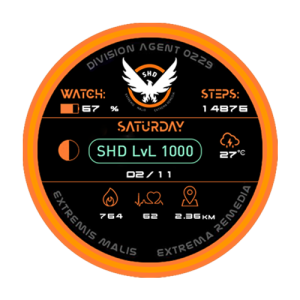 ✕
Self Play
This service can only be delivered in piloted mode because it requires a considerable time investment or a skill set unavailable for most customers.
Piloted
We have completed thousands of orders using the piloted mode and never faced any bans or suspensions, so we can confidently say that is very safe to use even though giving us your login information may seem a bit scary.
📝 SHD WATCH BOOSTING SERVICE
Here you can buy SHD leveling service, a new infinite-progression system introduced into the Division 2 game with the Warlords of New York expansion.
When you buy SHD boost from us, you will select the desired amount of SHD levels you want to get and our boosters will grind the required XP for all those watch levels by completing various activities such as missions, control points, projects, bounties, strongholds, open world activities on the highest difficulties, for the best XP gain.
DELIVERY METHOD
At KBoosting, you can buy the Division 2 SHD leveling on all platforms: PC, PS, and XBOX. As for delivery, this service is available with Piloted mode ONLY, with account sharing, so we will get you a Pro Booster that will log into your account and complete the SHD leveling service for your character. When it's complete, you will get an e-mail and notification so you can log back in.
⏳ ETA - SHD LEVELING SERVICE
ETA for SHD leveling boost is variable, depending on the purchased amount of SHD levels.
✔️ SHD WATCH LEVEL BOOST REWARDS
Your desired SHD Watch Level, 100% guaranteed.
Various end-game activities completed.
You have a high chance of getting Exotics and Named items.
Opportunities for Proficiency Rank and Expertise Level increase.
We save all the loot that drops for your agent for the whole duration of the boost.
⚙ SERVICE OPTIONS
Platform: From the dropdown, you can select the platform (PC, Xbox or Play Station) where you want us to provide the SHD Leveling Service.
Number of SHD Levels: Use the slider to select your desired amount of SHD Levels you want us to get.
Delivery Speed: Normal - we will place your order in the queue, and when it's your turn, we will complete it. Express - your order will be treated as a high priority, so the first booster to become available will start your order.
⚠️ SERVICE REQUIREMENTS
You must own a Division 2 account with a level 40 character to be eligible for the SHD Level boost.
Disabling the 2-step-verification login protection will help ease the process for both you and our booster (you won't need to give us the login code by phone or e-mail).
ℹ️ SHD WATCH LEVELING - THE DIVISION 2
What is SHD Level in Division 2?
SHD is a new levelling system that allows players to keep on improving their characters' stats by spending SHD points in the desired category: Offense, Defense, Utility, Miscellaneous, or Scavenging.
How to access the SHD Watch?
After you reach level 40 and complete the Warlords of New York story, you get access to Keener's Watch and with it, infinite SHD level progression.
How to gain SHD experience?
You gain SHD experience by completing activities and defeating any type of enemies in The Division 2. Once you gain 700 000 experience and the SHD progress bar is filled, you will receive a point to spend on the Keener's Watch.
How does the SHD leveling work in Division 2?
SHD level progression is account wide, meaning that if for example you reach SHD level 1000 on one character, the next level 40 character you create and complete the WONY campaign with, will have direct access to those 1000 points gathered on the previous agent, as soon as you also activate the Keener watch on it.
Types of Stats to spend your SHD points on
In the following lists, we present in what kind of stats you can invest your SHD points:
Offense
Weapon Damage
Headshot Damage
Critical Hit Chance
Critical Hit Damage
Defense
Total Armor
Total Health
Explosive Resistance
Hazard Protection
Skills
Skill Duration
Skill Damage
Skill Repair
Skill Haste
Miscellaneous
Reload Speed
Ammo Capacity
Accuracy
Stability
Scavenging
E-credits
Ceramics
Polycarbonate
Steel
Carbon Fiber
Electronics
Titanium
Printer Filament
SHD Calibration
Field Recon Data
Please feel free to contact us on live chat or the discord server for more information on our SHD Watch farming service. We are here for you 24/7!
Frequently Asked Questions
When can you start working on my SHD level boosting service?

We start working on your SHD leveling boost couple minutes after the order is placed and the payment is processed. There are couple exceptions though when we might be overloaded, when the request on services is very high, such as raid launches. Even if we can't start working on your order right away, before purchasing, the manager will let you know when your SHD watch boost can be taken care of.
How can the SHD watch level boost service be delivered?

You can buy Division 2 SHD watch leveling boost only as a piloted type of service, with account sharing. One booster is going to log into your account and pass the account back after the job is done.
Is it safe to buy SHD level boosting?

Absolutely. Just like every service provided by KBoosting, SHD leveling service is handmade, without the usage of any illegal 3rd party software, cheats, hacks, aimbots or XP glitches. All the services we provide are 100% safe.
How long does the SHD/Watch boosting service take for delivery?

The delivery of this service depends on the amount of levels you select when you place the order. Our boosters can deliver fast SHD level boosting, obtaining one SHD level every 30 minutes.
What platforms can the SHD leveling service be delivered on?

We can provide fast SHD boosting on all platforms: PC, PS, XBOX.