Control Points Farm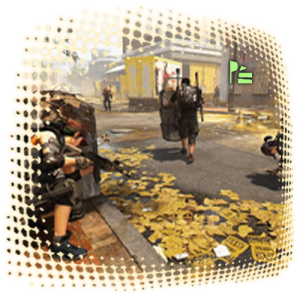 ✕
Self Play
This service can only be delivered in piloted mode because it requires a considerable time investment or a skill set unavailable for most customers.
Piloted
We have completed thousands of orders using the piloted mode and never faced any bans or suspensions, so we can confidently say that is very safe to use even though giving us your login information may seem a bit scary.
📝 CONTROL POINTS FARMING SERVICE
Here you can buy Control Points carry services for your character. Control points are open-world PvE activities that are very challenging and can be cleared on multiple difficulties for unique rewards. Upon completing them, the higher the difficulty, the better the rewards you get in return.
In Division 2 you will get the best value out of the Level 4 Control Points (Heroic CP) that reward a huge amount of XP, high quality loot and guaranteed blueprints and materials. Our professional boosters have best-in-slot builds and will provide control point carries on the highest difficulties (challenging or heroic) so your character will receive the best rewards possible, fast and efficient.
The Delivery of the service is available with Piloted Mode only, so one booster will have to log into your account and complete the service for you. When it's complete you will get an e-mail and notification so you can log back in.
⏳ ETA FOR CONTROL POINTS CARRY SERVICE
Is between 1-7 days, depending on the desired amount of control point clears and booster availability.
✔️ CONTROL POINTS FARMING SERVICE REWARDS
The selected amount of control points cleared for your character.
All the loot that drops for the whole duration of the boost.
A lot of crafting materials and unique crafting blueprints.
High chances of getting Exotic and Named items.
SHD Leveling and Season Level Boost while providing the service.
⚙ SERVICE OPTIONS
Select Platform - We can complete this service on PC, PS, or XBOX.
Select Difficulty - Choose the difficulty you wish.
Amount of Control Points - Choose your desired number of Control Points you want us to farm.
Delivery Speed - Normal - we will place your order in the queue, and when it's your turn, we will complete it. Express - your order will be a high priority, so the first booster to become available will start your order.
⚠️SERVICE REQUIREMENTS
Level 40 Character with main story completed.
ℹ️ CONTROL POINTS - THE DIVISION 2
WHAT ARE CONTROL POINTS IN DIVISION 2?
Control points are open-world, side activities that can be found in every district available in the game. They are a very good source of XP, crafting materials, targeted loot and unique crafting blueprints.
HOW DO CONTROL POINTS WORK IN DIVISION 2?
Control points are controlled by enemy factions. As the players enter the contested area, they call for reinforcements and neutralize the enemies, including their leader.
Once all the hostiles are dead, they prepare for a counter-attack and they have to successfully defend the control point in order to have access to the Supply Room and obtain their rewards.
CONTROL POINTS DIFFICULTY IN DIVISION 2?
In Division 2, Control Points difficulty scales with the world's difficulty selected by the player: normal, hard, challenging, heroic. The quality and quantity of the rewards directly depend on the control point's difficulty.
HOW DO YOU GET CONTROL POINTS TO LEVEL 4?
You can raise control points to alert level 4 by using the following methods: you can either increase the world's difficulty to Heroic which will instantly increase the encounter's alert level or you can complete activities connected to that control point and increase the its alert level manually.
CAN YOU RESET CONTROL POINTS?
Yes. If you found a control point that seems faster to complete or it rewards some desired targeted loot, you can now keep farming that control point by restting it over and over.
IS IT WORTH FARMING CONTROL POINTS IN DIVISION 2?
Control points farming is totally worth it because of the great rewards you can get in return, whether you are looking for fast XP gain, materials, targeted loot or crafting blueprints. But please keep in mind that you will need a proper end-game build set up in order to efficiently farm them and make it really worth.
SHOULD YOU BUY CONTROL POINTS FARMING SERVICES?
Control points farming services are the perfect choice for those players who want to obtain fast XP gains, high quality loot with very good stats or blueprints but unfortunatelly they don't have an efficient method or loadout to make it possible. Our dedicated boosters will use their best loadouts to make sure the control point farming service will be insanely fast and efficient.
Please feel free to contact us for any concerns or additional information regarding our control points carry service. Aswell, you can check this link for additional information on this topic.
Frequently Asked Questions
Will I receive updates regarding my order?

Yes. We will constantly keep you updated with the progress of your order as we work on it through Discord app and via E-mail and/or notifications. Once the order is placed and a booster gets assigned, you will get in touch with him directly for any updates or questions regarding your order.
When do you start working on my Division 2 order?

Usually we start boosting a couple minutes after the order is placed and the payment is processed. There are couple exceptions though when we might be overloaded, when the request on services is very high, such as new season or game launches. After purchasing a Division 2 Boost (self-played) you will schedule the service together with the manager in advance, so the team is ready for you whenever it suits you better. Even if we can't start working on your order right away, before purchasing, the manager will let you know when your boost can be provided.
Is it safe to buy Control Point farming services in Division 2?

We provide boosting services since 2013, completed thousands of orders as self played and piloted mode and we never encountered any issue, so we can definetely claim that our Division 2 services are 100% safe. For extra security, in case you buy a piloted service, that requires account sharing, we can use a VPN of your country and stream the boost aswell.
Can I still use my account?

Absolutely. We are always more than happy to schedule your boost around the times that you prefer, whether it is a self played boost or a service that requires account sharing.