Apocalypse Tier Boost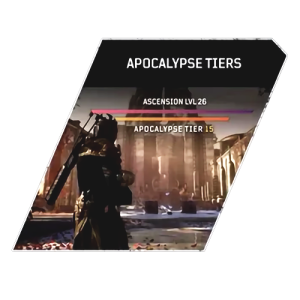 ✕
Self Play
This service can only be delivered in piloted mode because it requires a considerable time investment or a skill set unavailable for most customers.
Piloted
We have completed thousands of orders using the piloted mode and never faced any bans or suspensions, so we can confidently say that is very safe to use even though giving us your login information may seem a bit scary.
📝 APOCALYPSE TIER BOOST
Apocalypse Tiers are an extension of the current Challenge Tiers, allowing players to push the boundaries further. You will need the Worldslayer DLC to progress beyond Apocalypse Tier 15 (equivalent to Challenge Tier 15 pre-Worldslayer). Apocalypse Tiers can be leveled in any content, and they will scale the difficulty whatever activity you choose to play.
Our Apocalypse Tier service helps you boost the challenging ranks fast & effortlessly! Here you can choose to buy Apocalypse Tier boost for benefits such as item level increase, a higher chance for apocalyptic epic/legendary items, etc.
The base Outrider's Storyline can be played with both World Tiers and Apocalypse Tiers, but Expeditions & all Worldslayer content can be played only with Apocalypse Tiers.
DELIVERY METHOD
This service is available with Piloted mode Only, with account sharing. A Pro Booster will log into your account and complete the Apocalypse Tier boosting service for you. When the order is completed, you will receive an e-mail and notification so you can log back in.
⏳ ETA FOR APOCALYPSE TIER BOOSTING
ETA
for
Apocalypse Tier boost
is between
2 – 7 days
, depending on your current progress and the number of tiers that need to be unlocked.
✔️ REWARDS
Apocalypse Tier boosted to your desired rank.
Chance for Epic/Legendary Apocalyptic Items
Apocalypse Tier Reward – Every tier has a Reward chest that can contain various items.
⚙ SERVICE OPTIONS
Select Current/Wanted Apocalypse Tier – With the left handler, select your current Apocalypse Tier; with the right handler, choose your wanted Apocalypse Tier
Delivery Speed – Normal - we will place your order in the queue, and when it's your turn, we will complete it. Express - your order will be treated as a high priority, so the first booster to become available will start your order.
⚠️ REQUIREMENTS
To be eligible for this service, you must own Outriders in your Steam Library.
You must have the campaign completed. If your character is missing the completion, you can check our Campaign Service.
ℹ️ APOCALYPSE TIER – OUTRIDERS
Apocalypse Tiers are similar to World Tiers from the base Outriders game, and they increase the difficulty and add modifiers stats in exchange for better experience and loot. You start gaining the tiers from level one and gain access to the next tier by getting experience in the tier below it. There are 40 tiers designed to gain power at the same rate as the difficulty increases.
Frequently Asked Questions
What are the Apocalypse Tiers in Outriders?

Similar to World Tiers for story and side missions, the Apocalypse Tiers represent the difficulty that an activity can be played on, up to tier 40.
How many Apocalypse Tiers are there in the Outriders: Worldslayer?

There are a total of 40 tiers of difficulty the activities can be played on. The higher the level, the more difficult the content becomes but with higher quality and quantity of loot.
How to unlock my next Apocalypse Tier?

In Outriders, the fastest way to unlock your next Apocalypse Tier is to play the highest currently unlocked Tier until you meet the requirements for the next upgrade.
Is it safe to buy Apocalypse Tier boost in Outriders?

Absolutely. Every service provided by KBoosting is handmade, without the usage of any illegal 3rd party software, cheats, hacks, exploits or any glitches. Our Outriders Apocalypse Tier carry services are 100% safe.
Who are the Challenge Tier carry services meant for?

We specially created this boosting service for those players who don't have the required time or skills needed to unlock the desired tier, that can be very frustrating and time consuming. You can now buy Apocalypse Tier boost in Outriders: Worldslayer and let our professional players handle all of that for you, safe and lightning-fast!