Vanilla Campaign Completion (Story Mode)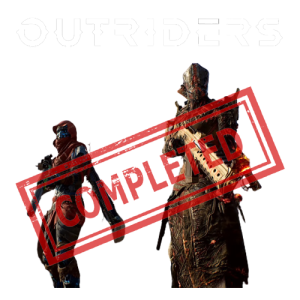 ✕
Self Play
This service can only be delivered in piloted mode because it requires a considerable time investment or a skill set unavailable for most customers.
Piloted
We have completed thousands of orders using the piloted mode and never faced any bans or suspensions, so we can confidently say that is very safe to use even though giving us your login information may seem a bit scary.
SERVICE DESCRIPTION
Here you can buy Outriders Vanilla Campaign completion, a service specially designed for those players who want to skip all the 1-30 leveling process and the story mode.
One of our professional Outriders boosters is going to log into your account and carry your new character through the whole story of the game, taking care of the required main missions and side missions up to level 30.
We provide the Outriders full story completion only as piloted mode, with account sharing, because completing all the above mentioned requires a lot of time and it would be very difficult to be able to syncronize with the client's schedule for so long, over multiple playing sessions and different timezones.
So one booster will have to log into your account and play untill your character completes story mode and reaches level 30. For extra security, if needed, we can also use VPN of your country.
IMPORTANT INFORMATION
ETA⌛ for this service is between 1 and 2 days.
We guarantee that the boost will be handmade, without the use of any hacks or bots, 100% safe and risk free.
The booster will save all the weapons and gear on your account and you will decide what to save and what to deconstruct.
The Outriders Campaign has 18 Chapters as follows:
1. Prologue (1x Story Quest)
2. Rift Town (5x Story Quests)
3. First City (4x Story Quests)
4. Eagle Peaks (4x Story Quests)
5. Deadrock Pass (2x Story Quests)
6. Trench Town (4x Story Quests)
7. Quarry (4x Story Quests)
8. Forest Enclave (3x Story Quests)
9. The Stronghold (3x Story Quests)
10. Ancient Ruins (2x Story Quests)
11. The Gate (3x Story Quests)
12. Dunes (2x Story Quests)
13. Utargak (3x Story Quests)
14. Desolate Fort (3x Story Quests)
15. Canyon of the Grand Obelisk (3x Story Quests)
16. Pax City (3x Story Quests)
17. The Caravel (2x Story Quests)
18. Outriders' Camp (End-Game)
REQUIREMENTS
In order to be eligible for this boosting service, you must own Outriders in your Steam Library.
If you opt for the account sharing mode, you will need to pass us your account's credentials, DISABLE 2FA Verification and don't log the account untill the job is done.
On Play Station and Xbox, disabling the 2-Step-Verification login protection will help ease up the process for both you and our booster (you won't need to give us the login code from phone or e-mail).
Frequently Asked Questions
What is the Outriders campaign lenght?

According to the official announcement on Square Enix website, the main campaign will take around 30 hours to complete, without taking into consideration all the side missions the game has to offer.
What is the fastest way to complete Outriders campaign?

Solo, the fastest way to complete Outriders story mode is to efficiently walk through the missions on a suitable world tier difficulty for your character's power. A higher world tier that you can't efficiently farm on will only slow you down!
Can you buy Campaign Completion in Outriders?

Yes, at KBoosting you can buy Outriders Campaign Completion boost and skip the story mode and unlock end game content such as expeditions in a breeze.
Who is the Outriders campaign boost meant for?

We specially created this boosting service for those players who don't have the required time or skills and want to skip the grind for campaign completion that can be very time consuming. You can now buy story mode boost in Outriders and let our professional boosters handle all of that for you, safe and lightning-fast!
Is it safe to buy campaign completion boost in Outriders?

Absolutely. Every service provided by KBoosting is handmade, without the usage of any illegal 3rd party software, cheats, hacks, exploits or any glitches. Our Campaign Boosting services are 100% safe.